Unlike, say in the UK, accurate and detailed analysis of property markets is not so easy in France. That is why the Cimalpes 'Panorama' is so valuable for current and future property investors in the French Alps. The firm is well placed, with 11 agencies in the top 5 resorts in the country, and over 500 rentals under management.
Paradoxically, none of the key trends identified in last years edition have been derailed by Covid, in fact some of them have become more evident:
Trends considered fundamental are:
Low interest rates, though it is noted that banks are tightening their lending criteria.
The tax breaks on offer for investors in new developments, such as VAT rebates.
The market for sales and rentals is moving more 'online', it is becoming more transparent and more price elastic.
The Alps are becoming increasingly popular as a summer destination.
And the emerging trends:
High quality rentals are displacing the hotel model.
A new class of investor is emerging in these leisure investment properties.
Long term winter rentals are becoming more popular, enabled by remote working.
The appeal of the great outdoors, and E-bikes.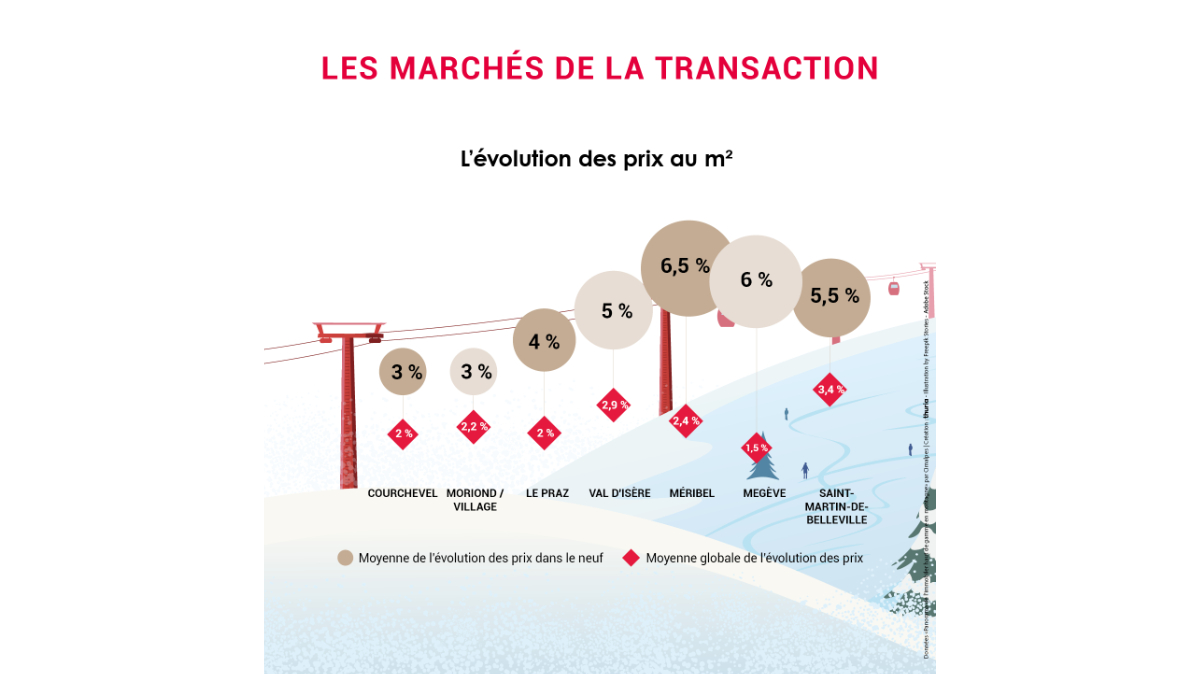 Resilience is a word we often refer to when it comes to ski property
2020 confirmed this. Cimalpes saw no sales cancelled due to Covid, with a 12% increase for the year. Interest is supported by new buyers looking to diversify, space and quality of life, and a resilient asset class. In every ski area, new-build and resale prices (per m²) continue to increase steadily. In Val d'Isère new-build prices rose by 5% in 2020, the resort is drawing clients away from other resorts, including Switzerland; demand continues to outstrip supply; occupancy and rental returns are high. A 6.5% increase in Méribel reflects the resort's status as a safe option, with good rental returns and high occupancy. Soaring in popularity is Saint Martin de Belleville, where new-build prices were up 5.5% in the year. A 6% increase in Megève is testament to the new generation of upgraded facilities, its location at the intersection of 3 ski areas, and proximity to Lyon and Geneva. Finally, Courchevel remains one of the most sought-after property markets, rental returns are good with high occupancy.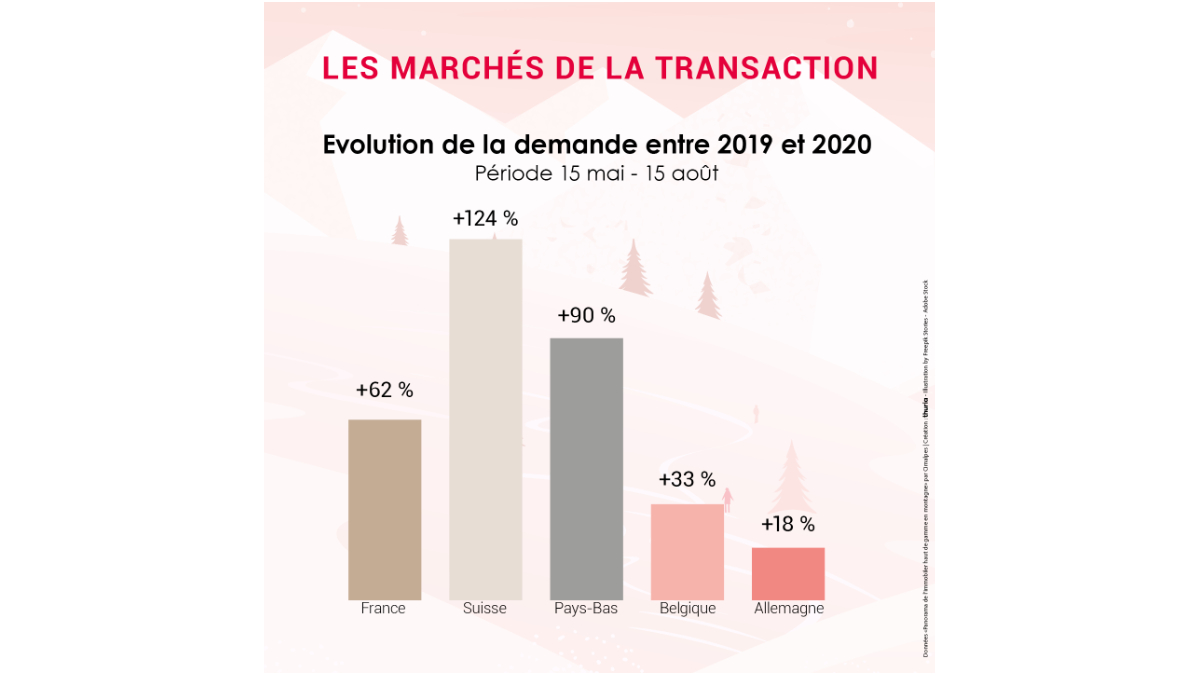 Who is buying?
As noted in previous editions, French nationals typically own the largest proportion of the existing stock and remain the standout buyer. This has trended higher with the decline of interest from the UK. Buyers from Belgium, the Netherlands and Switzerland are also relevant in these markets.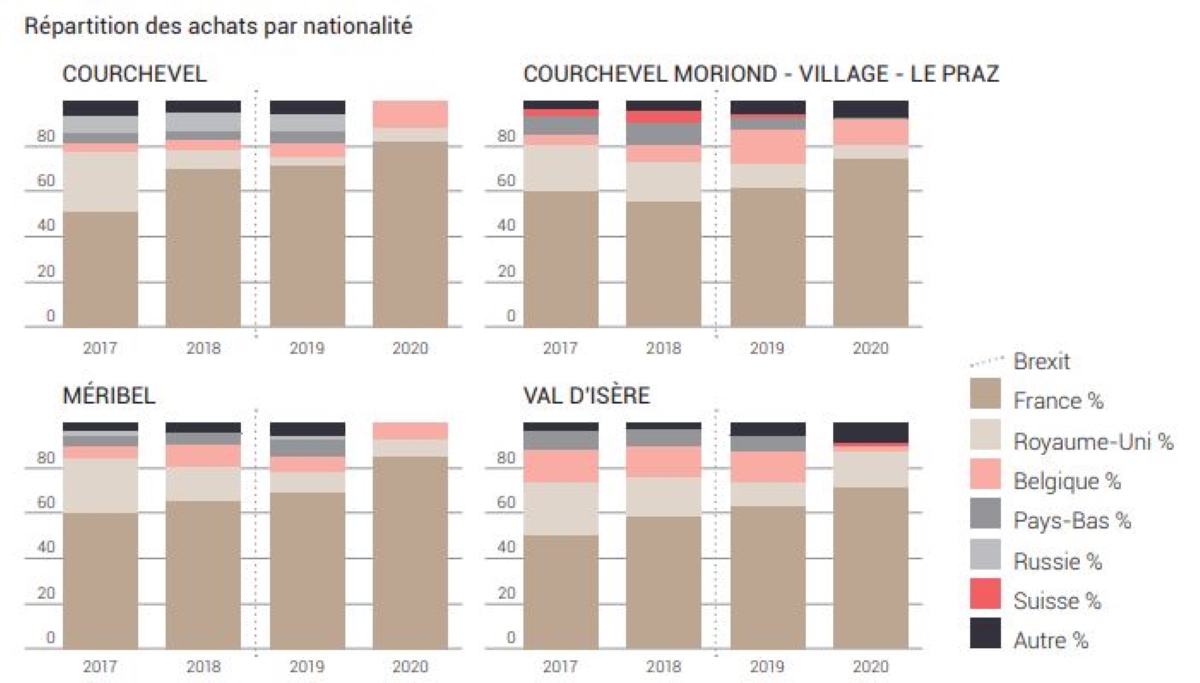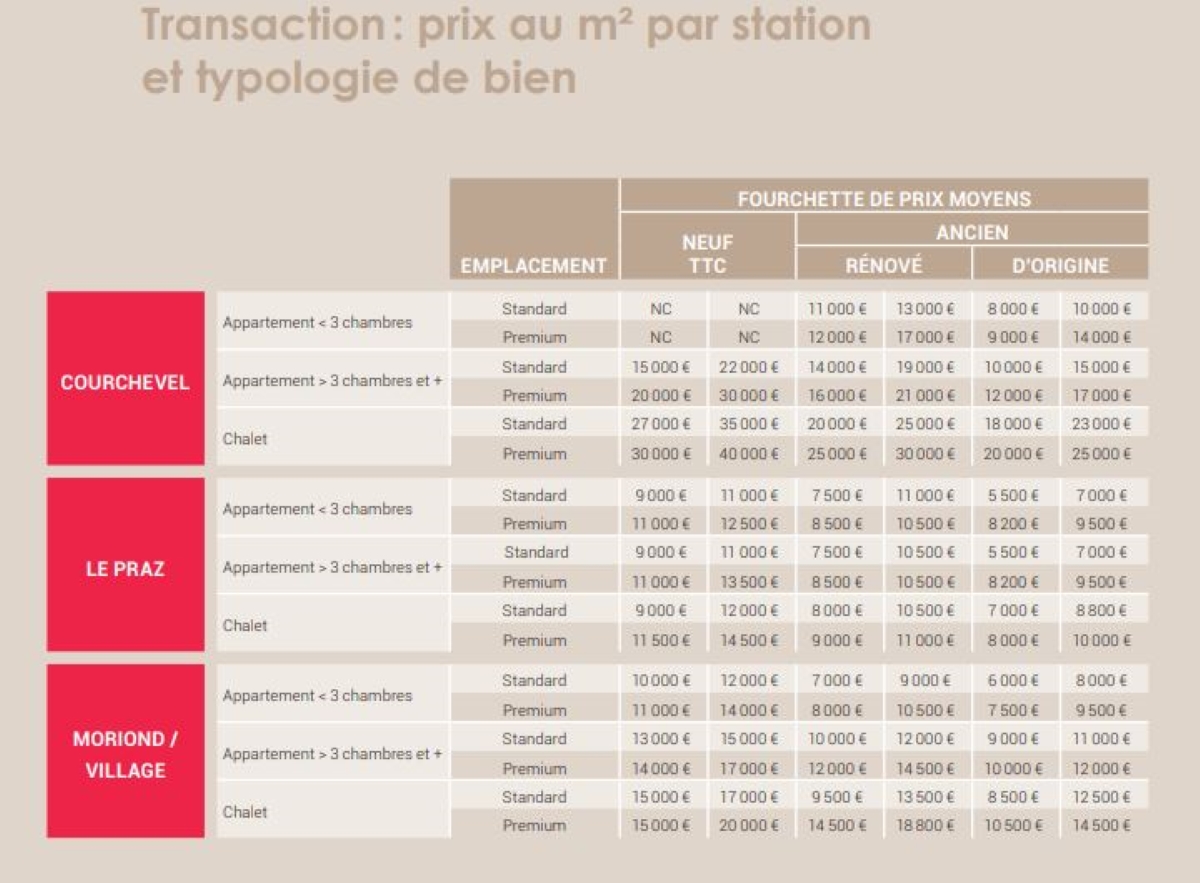 Rental demand in the summer of 2020 was significant, more than double that of 2019
Longer stays in resorts such as Megève, Courchevel Le Praz and Saint Martin de Belleville are very much in evidence. Of course for the current ski season, while there is plenty of interest, decisions remain on hold until the lifts can open.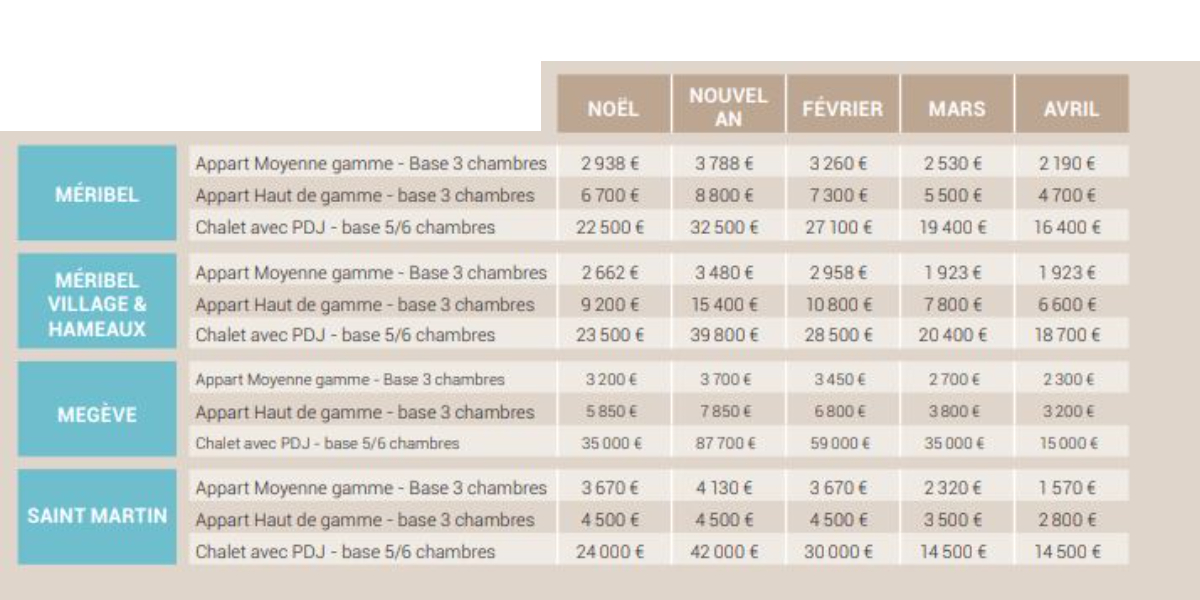 The trend towards shorter notice bookings and easier cancellation has been notable in the last couple of years. Covid has accelerated this. Equally, rental markets are becoming more price elastic, that is to say prices are adjusting more readily to reflect demand between the high and low seasons and the price variations between them are increasing. To maintain good yields through the season, owners and operators are offering more in the way of high-end services, which are progressively becoming another factor for demand than just the resort alone.
Rental yields continue to trend higher, as the quality of the properties available improves, and higher occupancy in the summer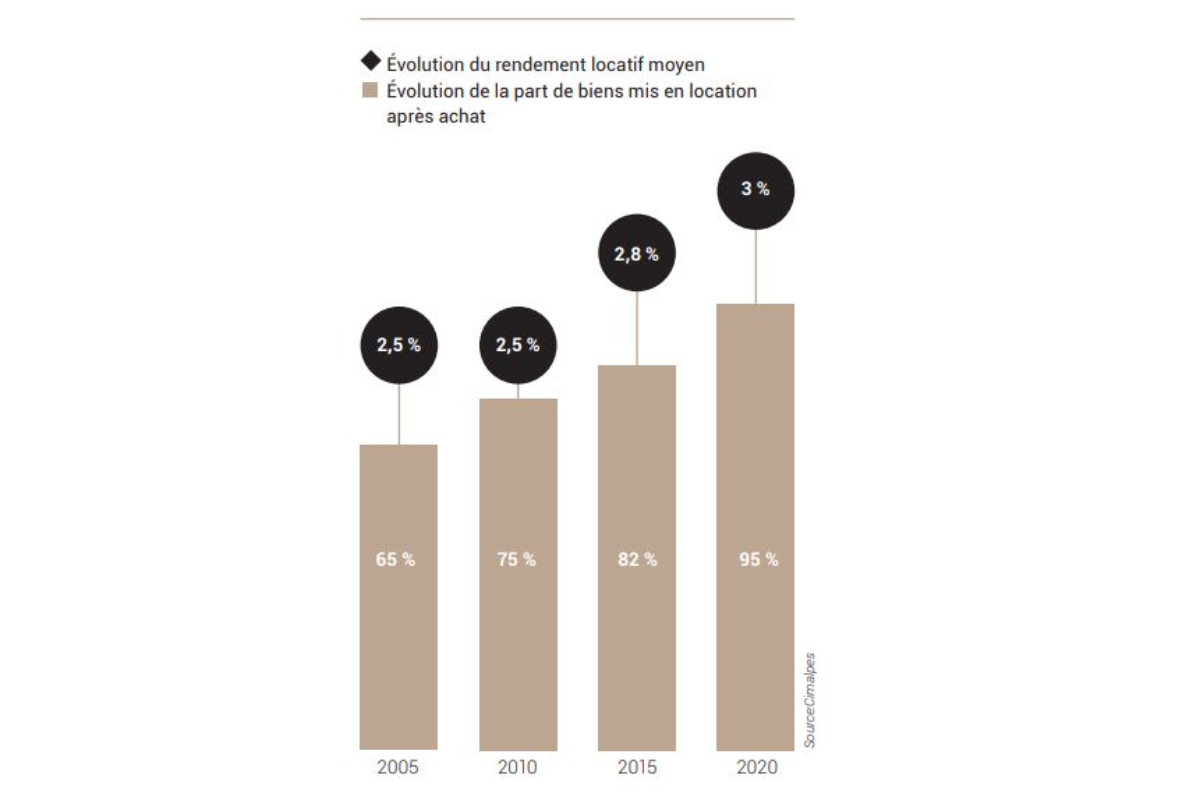 What about Brexit?
The impact of the UK departure from the EU has been felt across the board in the form of uncertainty affecting property buyers in the Alps over the last couple of years, mostly in 2019 when combined with weak Sterling. That said, in 2020, some resorts, notably Val d'Isère saw a modest recovery from UK property buyers. But if anything, the impact is greater in the catered chalet model, where UK operators were dominant; now the rules have changed, they will either have to sell or adapt by handing over the rental management to French or EU operators.
E-biking is charging up
APi has written a lot about summer in the Alps and the huge increase in mountain biking as that is attracting more and more visitors in the warmer months. E-bikes are very much part of this. They are now available to rent everywhere. More of the mountain is accessible by E-bike more of the time and so the requirement for all the lifts to be running is reduced. APi can testify, if you are careful with power usage, you can cover vast distances and be out on the mountain all day on one charge. Resorts are benefitting, with longer dual-season period and some cases, such as Megève, all four seasons.
Check out all Cimalpes properties on Alpine Property intelligence: ski holiday rentals, and chalets and apartments for sale.
Read the full report here.
See our recent blog: Alpine Property - Summer 2020/Winter 2020-21