At the wheel in the Alps
Ladies and Gentlemen start your engines. The snow is melting, the cows are in the fields, the cyclists are out, and there is no more salt on the roads. It is time to open the garage and brush out the cobwebs from the old car. Check the tire pressures and fill up the tank, we're off on an Alpine road trip.
Year after year, motoring enthusiasts head to the mountains. Inspired by the famous events such as the Monte Carlo Rally, driving on uncrowded Alpine roads in dramatic scenery, there is no finer place to be. Multi-day timed events, exclusive car club arrangements, guided tours and day trips you can easily plan yourself - they come in all shapes and sizes, for all levels of motoring interests. We take a look at a few that have caught our eye.
We start in the Swiss Alps in Villars, which hosts two events. The famous Alpine Challenge combines consistency and navigation, with a route of around 600km over 3 days. An event for any sports car over 30 years old, it takes the form of staggered timed starts along a mountain route kept secret until the last minute. The organisers are emphatic that it's not a race, we're not convinced!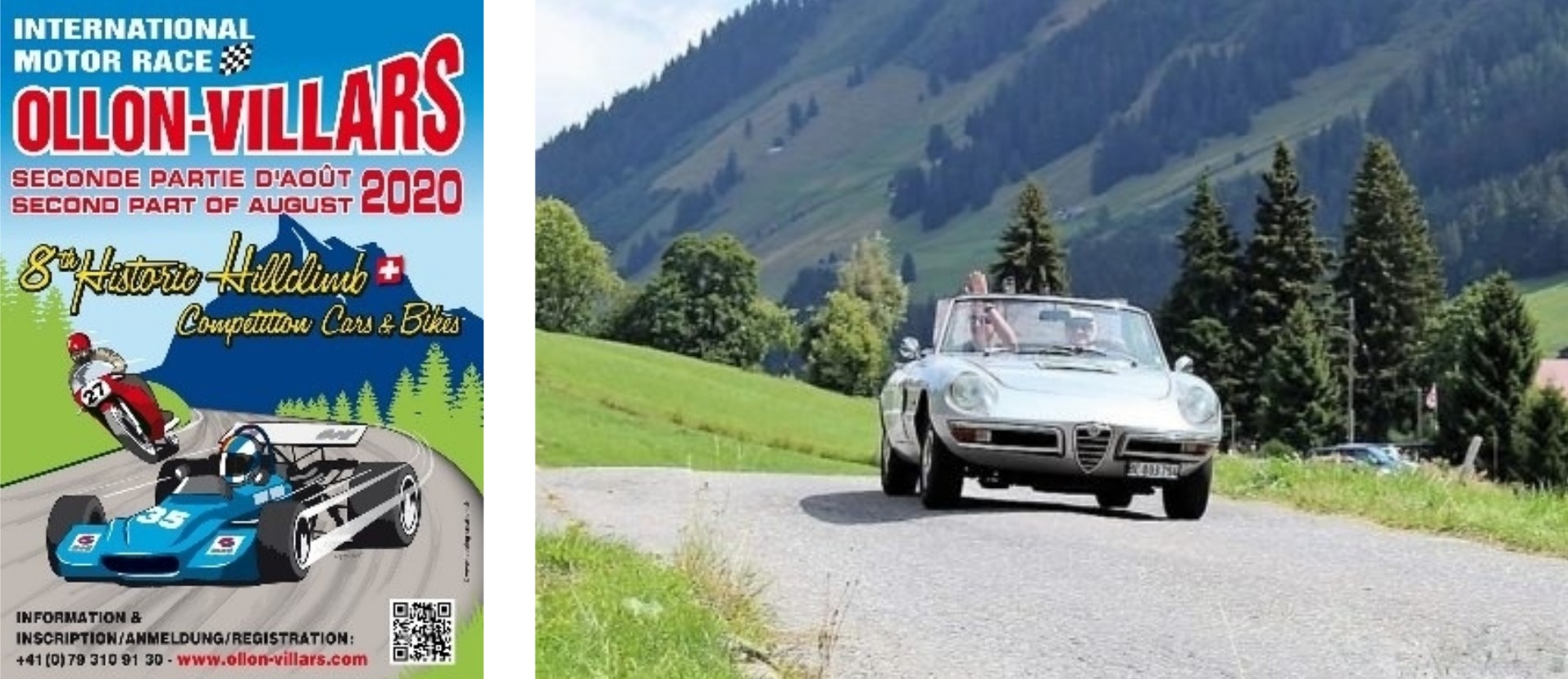 Villars is also home to the superb Ollon-Villars Historic Hillclimb. First run in 1953 and featuring up to 300 cars, bikes and sidecars from F1, F2 and other competitive classes, some top drivers and thousands of spectators, this event is not to be missed. The small town of Ollon is transformed into a paddock open to spectators,  Villars gathers all the participants on arrival at the summit. Quite a spectacle. It's not an annual event, they're accepting entries now for August 2020.
Or if you feel like a longer break, the Swiss Alps Driving Tour is an 8-day escorted event from Beaune via Grindelwald, Lauterbrunnen across to Andermatt. All stops and some gorgeous hotels are arranged by the organisers. They don't mind which car you bring. Or consider the Slap Adventures 7 day trip over epic mountain passes in the Swiss and Italian Alps. Choices, choices….you can stick to those wonderful French roads, ERL Events have a tour, with an emphasis on style, quality and nice hotels rather than pace. Passing through the Loire, via Annecy, a quick dip into Switzerland via the Col des Montets this tour finishes in Chamonix.
The Tour du Mont Blanc is for classic and vintage cars, an Alpine car rally starting and finishing at Place du Mont Blanc in Chamonix.  A 400 km tour taking in 7 summits through the most beautiful landscapes in Savoie, the Aosta Valley and Valais and ending back in Chamonix.

Rather more hardcore is the Rally Champions Roads by Millesim Classic Rally. An exceptional event for sports cars post 1960 partly on closed roads of the mythical "specials" of the Monte-Carlo Rally, it takes on the legendary passes between Valence and Monaco, via Alpe d'Huez, Gap, Serre-Chevalier. In case you think this is all getting a bit too blokey, they arrange a Tour des Alpes Ladies as well.
You wouldn't expect St.Moritz to be left out of this hall of fame. It hosts a British Classics meet in July, an Italian Classics themed meet in August as part of the Julius Bär Rally. And in September the Bernina Gran Turismo is a hillclimb race up the famous Bernina Pass for classic race and sports cars.
The Alps cover 62% of the land area of Austria, so let's head east and see what's on offer. We start with the Arlberg Classic Car Rally which caters to cars from 1935-1975 in six different classes over 4 days. Starting and finishing in Lech, the various routes cover no less than 10 passes, though canyons and vineyards, and a gala evening and award dinner at the end.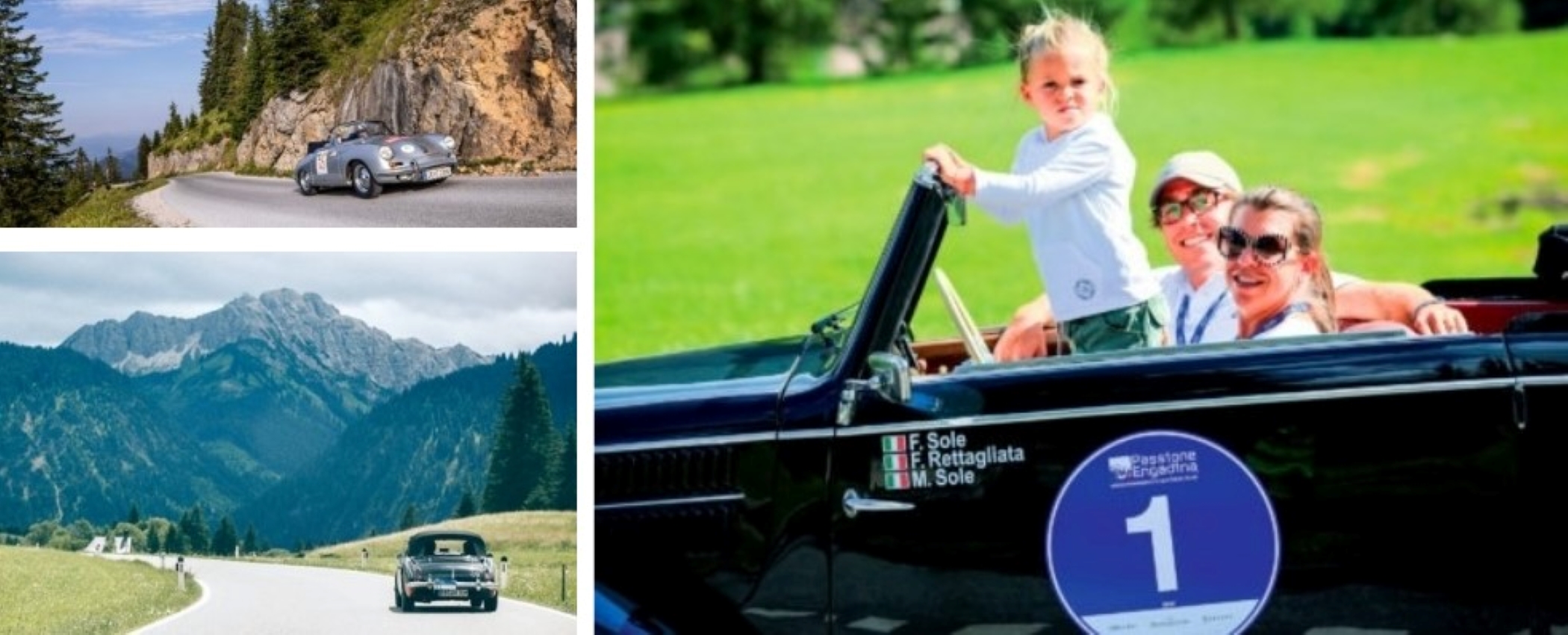 Well established on the calendar, the highly regarded Kitzbüheler Alpenrally marks its 31st year in 2019 offering limited places to owners of pre-1970s cars. The routes are said to be challenging, but we're sure you'll be up for it, as you glide past the iconic Wilder Kaiser range, Hochkönig, the Zillertal Aps, and across to Salzburg, ending with a parade through the old town of Kitzbühel itself.
The Ennstal Classic is another time-honoured classic car event in Austria drawing 100,000 spectators in three days. Time trial events are staged over 2 days for classic race cars. Known as the "Who's Who" of the international racing, rally, sports, TV and management scene, it has been twice won by the legendary Walter Röhrl. 5 times Le Mans winner Derek Bell said "For me the best rally in the world!"
What if two wheels is your thing?
The Rallye des Chamois is hosted by Val d'Isère Tourism. It combines 4 routes including the highest paved pass in the Alps the Col de l'Iseran, bike displays, gastronomic tastings, a rock concert, and no doubt some epic rides.

Over in Innsbruck, the Hotel Gruberhof hosts a 5 day serious bikers tour along some of the most famous routes and passes in the Eastern Alps covering 200-300km per day and dipping into the Dolomites. This isn't for the faint hearted, and we hope your bike has a comfortable seat, but it would be the biking trip in the mountains to remember.
Finally, if you're not sure where to go, and which one to pick, imagine riding through some of the finest Alpine passes up to 3000m in Switzerland, Italy and Austrian Alps in one 8 or 11 day trip. And we like the emphasis on decent hotels and food at the end of a fun day in the saddle. The Alpine Motorcycle Tour could be the one for you.
See properties for sale in Chamonix, Kitzbühel and Villars
By Alpine Property intelligence