For centuries traders passed through the Gotthard Pass, an important north-south axis in Europe. In 1802, JMW Turner painted the famous Devil's Bridge in the Schöllenenschlucht gorge. In its 19th century heydays, Andermatt became a destination as sought-after as St. Moritz, Zermatt or Verbier are today. Queen Victoria visited, Goethe loved it, more recently the village featured a scene in Goldfinger. But in 1895 the Swiss army set up a garrison there, which stayed for 110 years, and gradually all but wiped out the area's tourist appeal.
It needed a vision, and some serious cash. Enter Samih Sawiris, founder and Chairman of Orascom, a leading developer of fully integrated destinations. A masterstroke deal was struck with the Swiss government whereby all property for sale in Andermatt would be exempt from the Lex Koller regulations until 2030.
Buyers of any nationality can own property in Andermatt. Nowhere else in Switzerland has this exemption
Canton Uri has the second lowest lump sum tax regime in Switzerland. Income tax is low and there is no inheritance or gift tax. Stamp duty is just 0.3%; there are no resale restrictions. Property owners and prospective investors will be pleased to know that values in Andermatt, since the first developments were marketed, have risen by 7.3% annually to around CHF18k/m². Given the benefits of property ownership here, APi believes this represents good value when compared with many other famous ski resorts in Switzerland.
Where is Andermatt?
In the heart of the Swiss Alps, and easy to reach thanks to good roads – Zurich is 90 minutes by car, Lugano 1 hour, Milan 2 hours. Stuttgart or Munich are an easy half a days drive. From Western Switzerland, access is though the Matterhorn-Gotthard tunnel in the winter and the Furka Pass in the summer.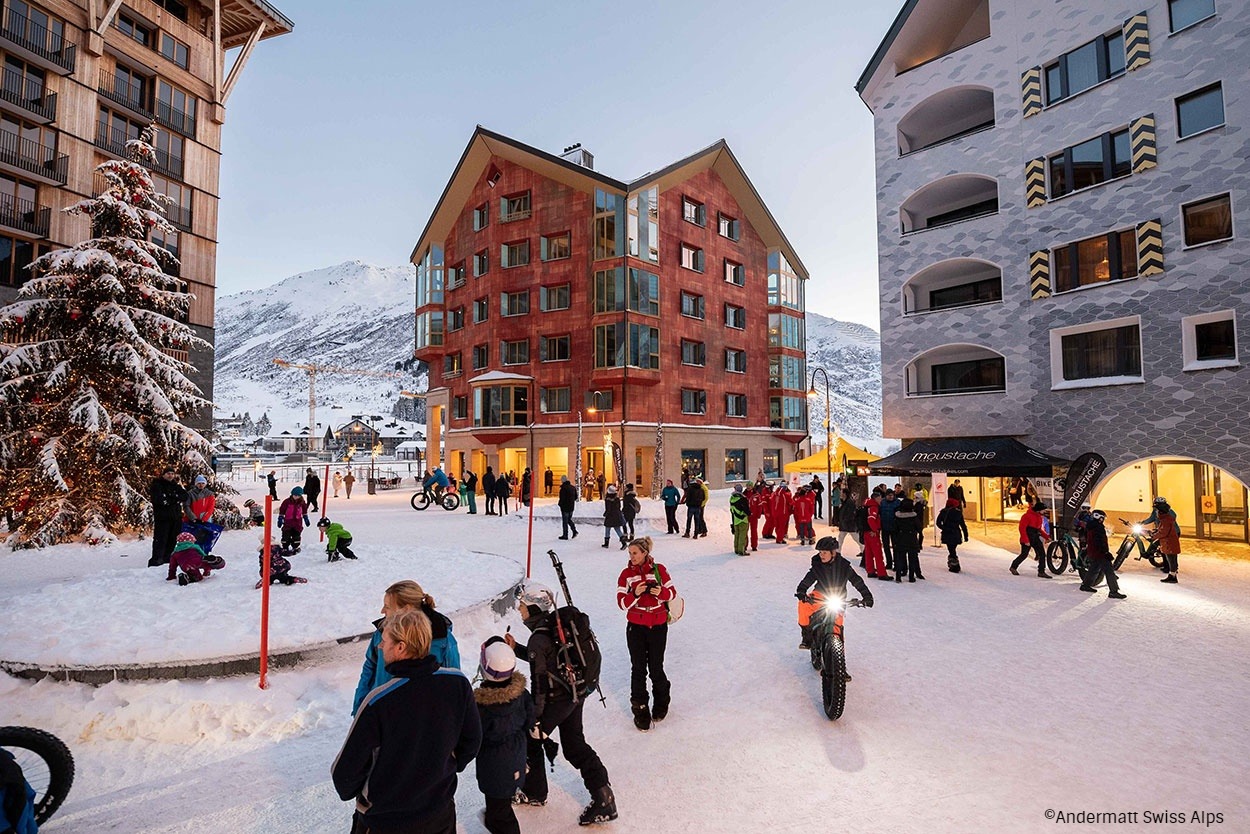 The village centre is a car-free zone, in fact you don't need a car, so it's quiet, and everything is within walking distance. Every building in the developments are individually designed by one of over 30 selected Swiss and international architects to create a beautiful and eclectic appearance for the master-planned resort. Visitors will find an attractive mix of hotels, apartment houses and chalets. A total of CHF 2bn will be invested in the resort, with further apartments and chalets for sale, hotels and a night club, expansions of the ski area and snow-making capacity.
What about the skiing in Andermatt?
This is the largest ski resort in central Switzerland, skiers and snowboarders are attracted by its reliable snow record and extensive on and off-piste terrain. For the 2019/20 season the ski area has been further expanded by a link from Sedrun to neighbouring Disentis which means a total of 180km of pistes and 30 lifts. Andermatt local Bernhard Russi, one-time James Bond stunt skier and downhill gold medal winner at the Sapporo Winter Olympics in 1972 has a run named after him. For experts, the Gemstock cable car up to 2965m opens up a north facing bowl with some excellent long, steep slopes and off-piste. All skiers will love the après ski train, instead of skiing back from the Disentis side, take the train and party all the way home.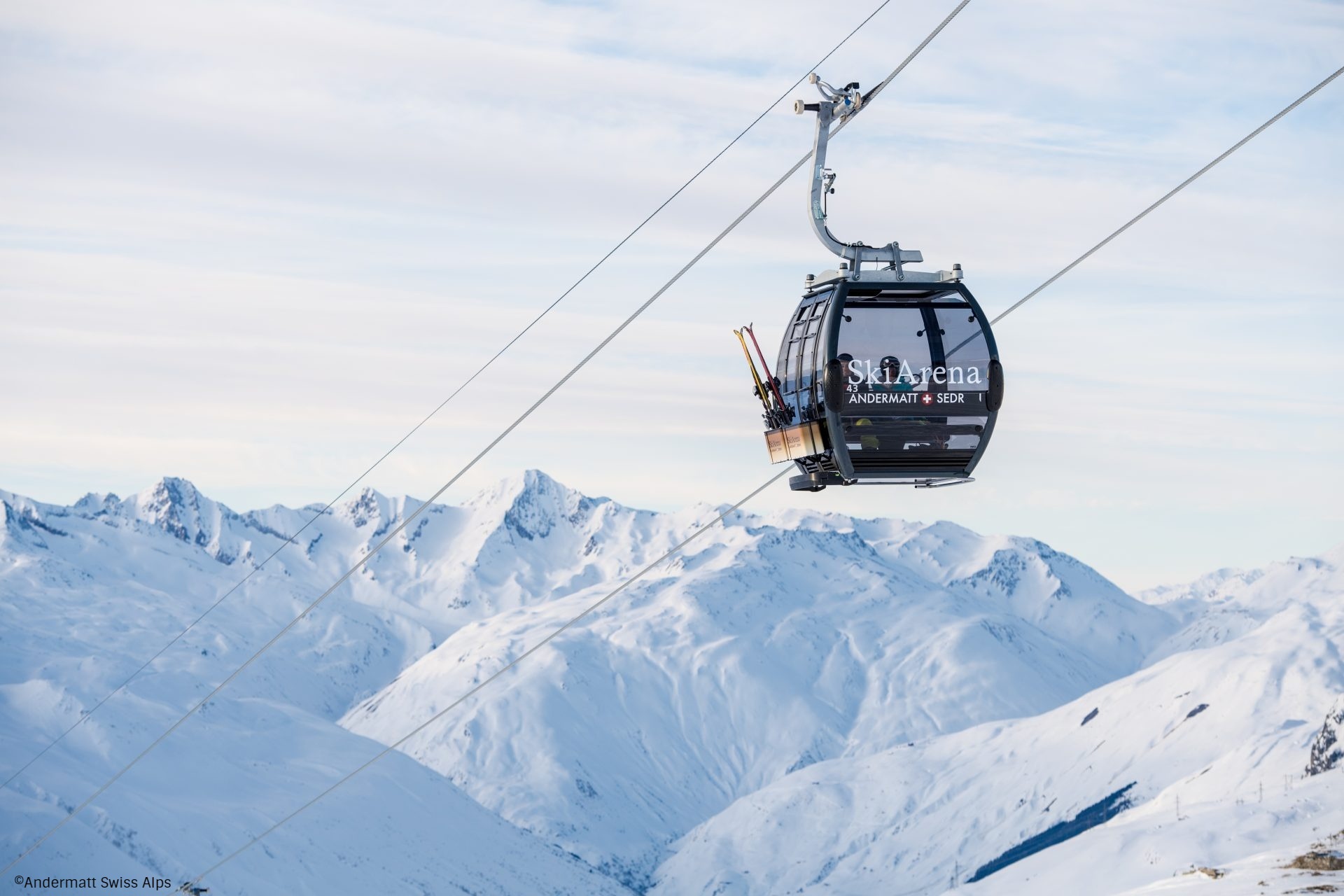 And if you don't ski? Not a problem
Cross-country skiers are well catered for, with 40km of trails on the doorstep in the Usern Valley and a further 112km in the wider area to explore. But if you're taking it easy, spas, health clubs, and indoor pools are all part of Andermatt's state-of-the-art infrastructure. For those more inclined to cocktails and fine dining, the very smart Chedi Hotel is starting to gain widespread recognition with a first Michelin star awarded to the Japanese restaurant there.
Andermatt has become a year-round cultural destination
Andermatt is innovative too. In June 2019, the Andermatt Concert Hall opened. An architectural masterpiece offering 650 seats, it hosts classical music, opera, jazz and modern music events and festivals. This is the first purpose-built arts venue in an Alpine ski village. Andermatt is also emerging as a serious gastronomic destination, with 3 Michelin* restaurants; further awards are expected.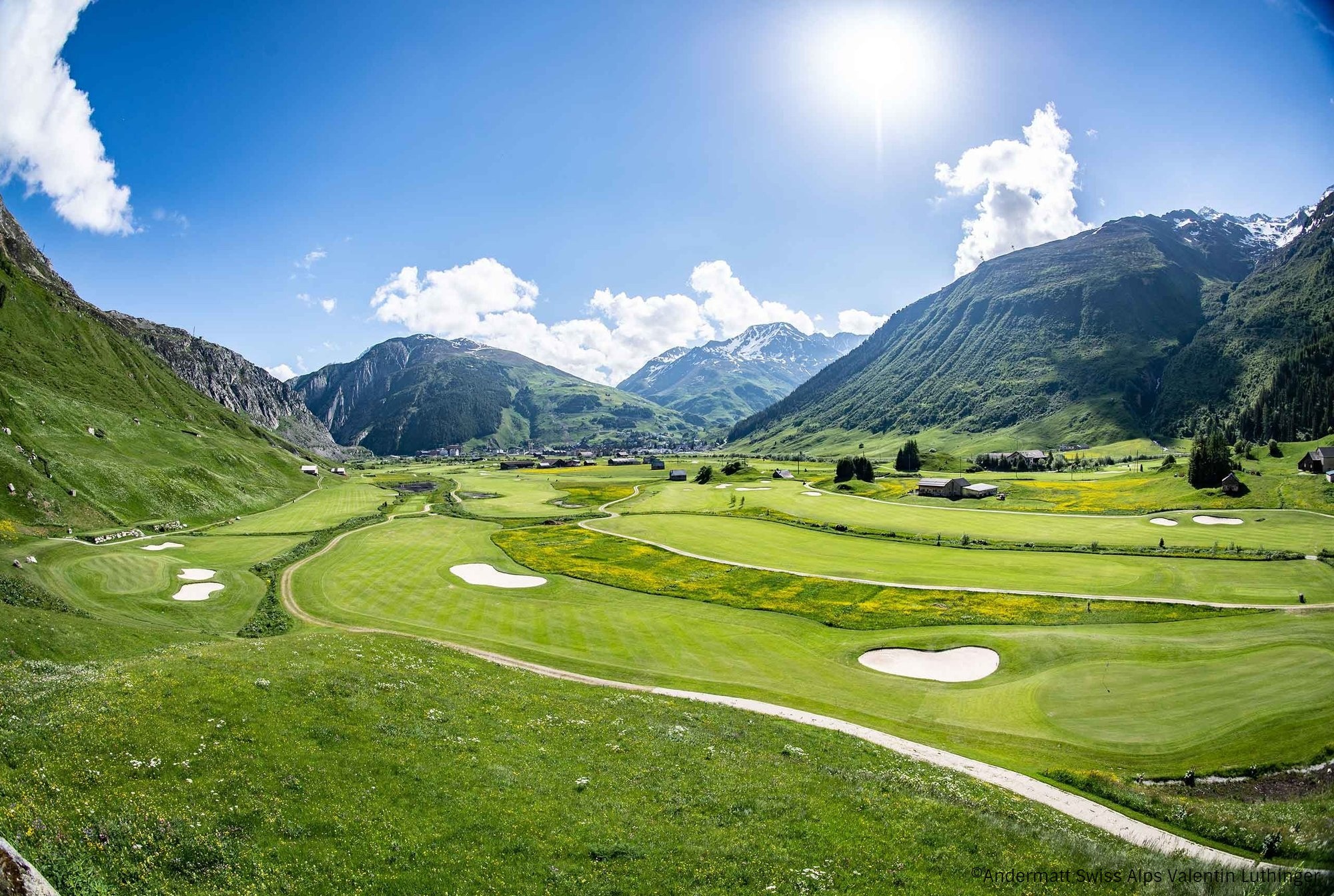 Andermatt in the summer
The 18-hole golf course meeting international tournament standards has been crowned Switzerland's best for two years in a row. Over 40 pristine lakes, rivers and waterfalls offer a marvellous palate of summer activities. Hikers enjoy some 500km of trails with breathtaking panoramic views. The Ursern Valley has become a venue for climbing, mountain biking, horse-riding, fishing, tennis and river rafting. Road bikers can test their endurance over 6 mountain passes in the region. Andermatt receives as many visitors in August as it does in January, testament to it's multi-season appeal.
Alpine Property intelligence. March 2023.