The destination that is Antarès in Méribel has become a reality. Two years on from our previous article on this outstanding project, let's ski to the front door and take a look at what's on offer.
In the Belvédère area of Méribel, the location of Antarès defines ski-in/ski-out convenience. From the Saulire (or Courchevel) side of the valley, you will ski back to Méribel centre with a choice of 3 pistes, 2 of which join up and run right past the door just above the Rond Point. APi can testify! Departing in the morning, take the Côtes draglift up to Rhodos 2, or just ski down the Doron blue run to La Chaudanne.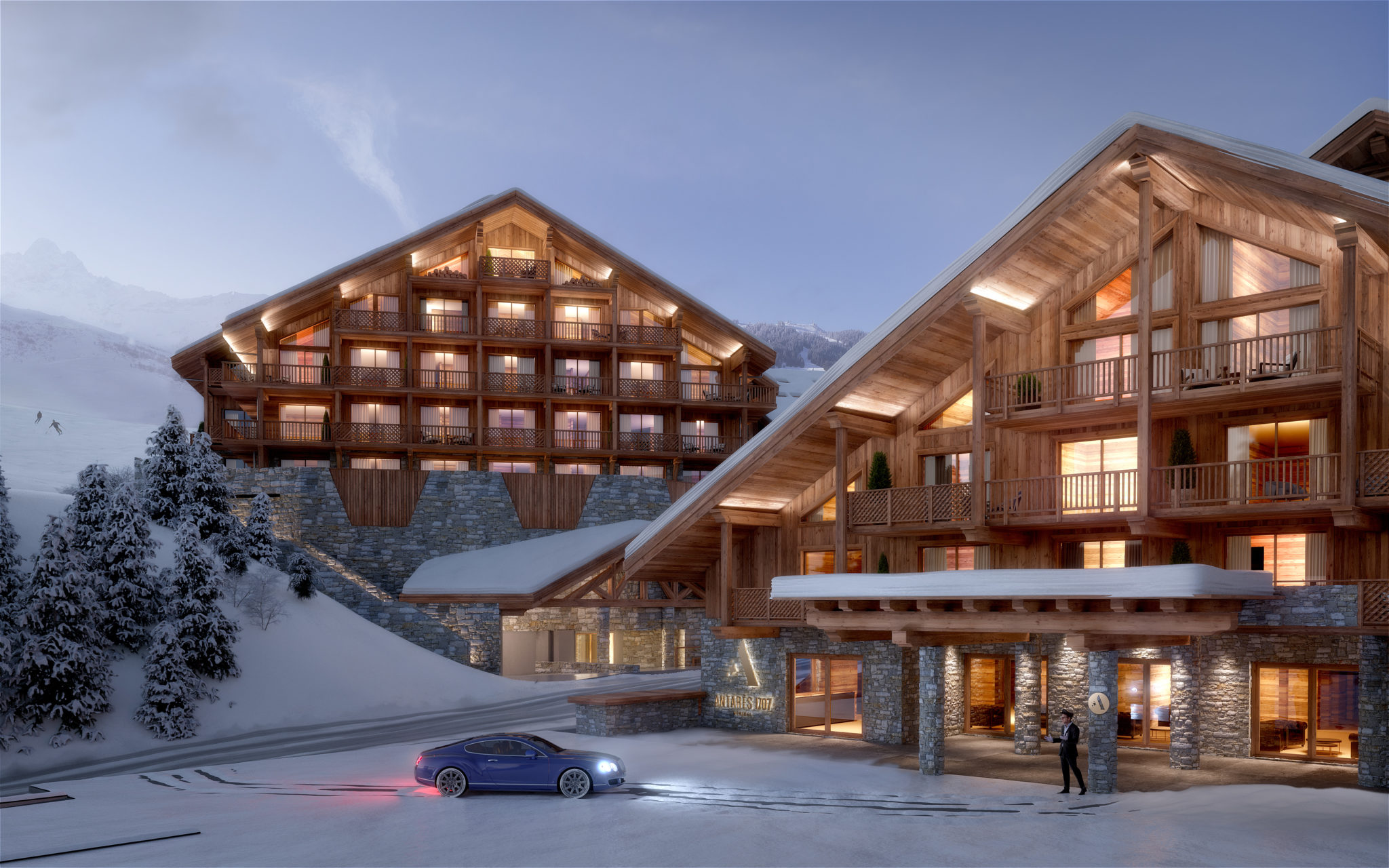 The facilities available to owners and for holiday rentals is where Antarès Resort really punches above its weight
This is no ordinary Spa & Wellness centre. With 10 treatment rooms on 2 floors over 800m², it has a double spa suite with its own jacuzzi, a secret forest treatment suite, a cryo programme, a nail studio, hair salon and the indoor fitness centre. A full range of yoga, pilates, personal training, treatments and massages is available.**
The impressive 25m swimming pool area also features multi-temperature vitality pools, an amphitheatre sauna, an ice fountain, heated marble loungers and private sleep pods. Nutritious (of course) snacks and refreshments can be ordered.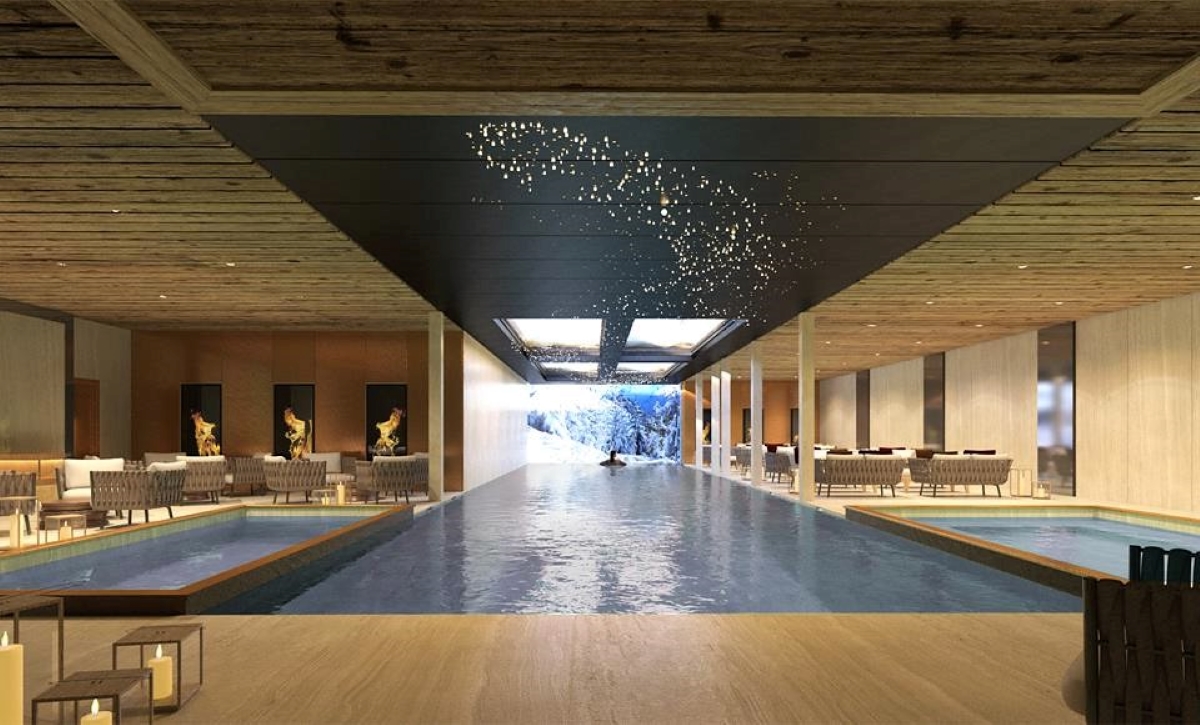 Refreshed and healthy, it must be time for an apéro or a meal. The hushed atmosphere of the 1707 Lounge Bar beckons with fine wines, cocktails and sophisticated menus to tempt you to the fireplace. And if you plan to stay in, Michelin star chefs are available to cook a meal of your choice; for you, or with you.
What about the little ones? The Kids Room is a specialised centre, just for them.
The boss just called, something urgent came up at work, there's a call to attend, you have a client in town. Even though you are on holiday, or you may be working remotely, the Business Centre caters to these needs with business corners and a fully equipped conference room.
The Ski room opens onto the slopes, with 400m² of space to get kitted out. Whether you've forgotten your gloves, your boots need re-fitting or you fancy trying out some new skis, the in-house ski shop is right there with all the top brands. Lockers and private boxes mean you can keep your equipment ready to go, all year round.**
Your Concierge, now that sounds useful. Méribel and the Trois Vallées have so much to offer, you might need a hand and some advice on booking the best fondue restaurant, arranging excursions and activities, ski lessons, taxis and transfers.
You could say they've thought of everything….
Apartments for sale in Antarès, Méribel

3 to 8 bedroom spacious apartments from 100 to 390m² are available for sale in the 7 chalets that make up the complex. Prices start at €2,238,399 (furnished, with parking), up to €12,092,454 for the most exceptional 10 room apartment with a stunning 75m² terrace and private Hammam. The exterior architecture is resolutely mountain chalet style blending materials such as aged wood, stone and copper. Interiors are refined, stylish and contemporary, buyers can select personalised design touches with interior architects and decorators, with a single contact person throughout. Find the Antarès Resort properties for sale here.

NAOS is the first chalet completed; construction is moving smoothly ahead with two more chalets scheduled for delivery winter 2021-22. Whichever you choose, there are fabulous views up, down and across the valley.
Buyers of new property in France benefit from lower notary fees, 2-3% compared with 6-8% for resales. If you choose to rent out your apartment with the rental program, the 20% VAT on the full asking price is deducted. A legal team is on hand to explain all this and help you with the right structure for your purchase. The whole purchase process is managed by a single representative who can make sure the legal/tax options are arranged, and who has access to competitive financing.
VALLAT has a well-established rental operation in Méribel, their team dedicated to Antarès takes care of the entire rental process to optimise your rental income, and property management for peace of mind. All you need to do is tell them the dates you plan to be there.
Méribel's largest ski property project in over a decade is a huge achievement, offering some of the finest accommodation and services in the Alps, in an outstanding location, all under one roof. Antarès should be an excellent ownership proposition, and a superb base for a ski holiday rental.
Read our our previous blog on Antarès in Méribel

**Please be advised that certain facilities in the Spa and Wellness centre and the Ski-room will have limited availability until 2022.