Why I Love Villars
How long have you been coming to Villars?
I have been coming to Villars from the age of three years old, I was sent to a home d'enfants (holiday camp)," l'Arc en Ciel", two weeks at Christmas and Easter and occasionally for one month in the summer.
Don't feel sorry for me for spending all this time away from my family, I just loved every minute of it.
After a break, visiting countless ski resorts in the Alps, I came back once my children were of an age to start skiing (3 and 5 years old).
What do you love about Villars?
As a child I loved the whole environment, the nature, which is spectacular thanks to the gentle hills of the region and everything was designed for children. I believe that at its height, Villars boasted close to 100 home d'enfants . We learnt to ski but also many more activities, hiking in the summer in Solalex was always exciting. Around Christmas, a Father Christmas would distribute chocolates on the ice rink, which was closed to the adults.
When I came back, I found the same family atmosphere. Villars has managed to keep its soul despite growing quite massively and updating itself as well.
The key highlight is the landscape. We are on a "balcony" facing south, and unlike many other resorts, we see the sun from sunrise to sunset. We are not in the bottom of a valley, as is the case in some other resorts.
How does it compare to other resorts you have experience of?
I have visited countless ski resorts, in France, Italy, Austria and other parts of Switzerland. I like Villars's average size and genteel pace. The resort is over 150 years old and therefore well established with families who have been coming here for generations. It does not attract hordes of unruly skiers. The openness, diversity and beauty of the landscape makes it impossible to be bored.
How would you say it is set up for a long-term resident to live?
I have met many people, from Europe, the US and even Australia who have decided to take residence here. They just love it. One of the key attractions is its proximity to Geneva (1h30) and international airport, Lausanne and Montreux where much is happening all year round. Earlier this month, I even went to Milan for the day (only 3 hours by train!), where I had time to meet friends for lunch, visit some museums and of course a little shopping.
Villars itself is active all year round, thanks, in part, to its international boarding schools. Many cultural and sport activities are organised throughout the year.
Finally, last year the "Bains de Villars" were opened, boasting great facilities (pools, outside gigantic Jacuzzi, panoramic sauna etc…), in addition to numerous existing attractions such as tennis, golf, biking, ice rink, cross country tracks etc…
Impossible to get bored!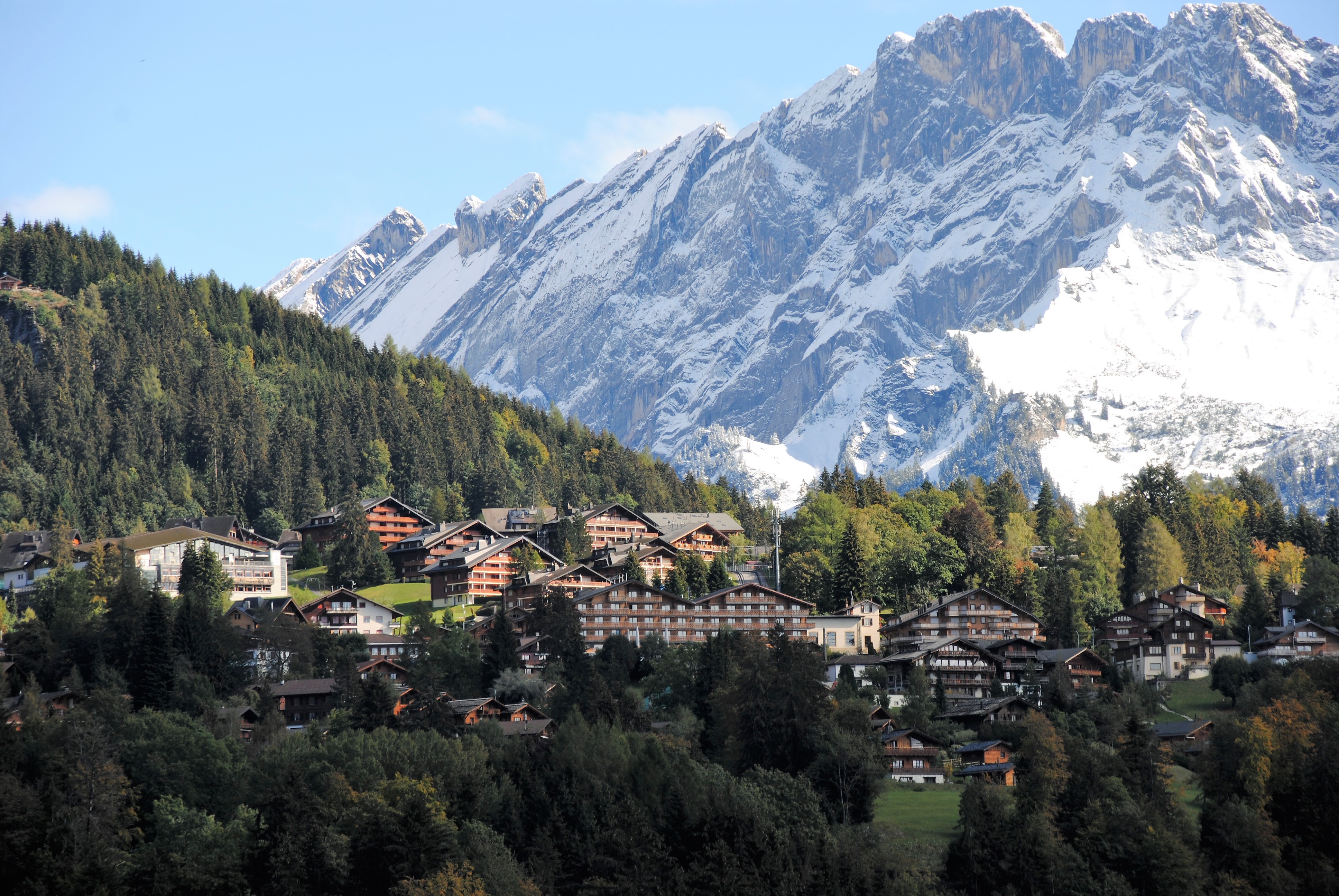 How easy is it to get to Villars?
Villars is easily accessible by train and bus (from Aigle). Once here, one does not need a car unless staying far away from the centre. There are local trains and buses to the nearby villages.
As a resident, one has access to resident cards offering discounts on public transport and most facilities mentioned above.
Which ski school do you like the best and why for the kids?
Having myself experienced ski schools in various countries, no doubt that I prefer the ones in Switzerland for kids. The groups are smaller and the instructors more attentive. In Villars I have used the Swiss Ski School (the reds). They are encouraging the children, they are very well organised, friendly and reliable.
Which ski rental shop do you use and why?
Dätwyler. I had my first skis rented from there, and the owner is still greeting me decades later. It is a family of professional skiers. Quality of the equipment is key, no compromise, as is the care of the customer.
Which are your favourite restaurants on a sunny day?
Col de Soud and Crazy Moose. Col de Soud for its outstanding fresh meals (and puddings!) and service, Crazy Moose for its stunning location and innovative cooking.
Lac des Chavonnes in the summer is magical.
Which are your favourite restaurants on a snowy day?
Col de Soud. La Vernayre.
Your favourite ski runs/off piste?
Difficult questions! I like them all! Then of course, we like going to Les Diablerets where two new and fast chairlifts have been installed last year. Spending a day at the Glacier 3000 on a good day is a must.
I don't go off piste.
At this point, one should add that we are lucky to have one of the best "piste maintenance professional" in Europe. Therefore, even when we don't have much snow, the team here manages to offer a few runs.
Which ski runs do the kids like the most?
The blue run from Chaux Ronde.
Après Ski in Villars…favourite bars?
Le P'tit Chalet on the Place de la Gare. There is a spot just opposite the departure of the Roc d'Orsay. We also like the bar at the Royalp Hotel.
Which are your favourite restaurants in the town? As a family and as a couple/with friends.
Le Vieux Villars, le Refuge de Solalex, the restaurant in Taveyanne for authenticity.
How is Christmas in Villars?
It is busy! Great atmosphere, most people with second homes are here, taking advantage of the relaxed pace.
How is summer in Villars?
Spectacular…on good days!
Your favourite summer/winter walks?
Lac de Chavonne, Solalex, le Pont du Nant…

If the above article has inspired you, please view the properties for sale in Villars
Alpine Property intelligence October 2018