The Uniqueness of Skiing
There are few sports, if any, that appeal to all ages, and the whole family. A ski holiday is a convivial gathering for families and friends. You may be a once-a-year skier, or every weekend, your knees may be a little creaky these days, or you are the next Candide Thovex, patiently waiting for a fresh powder dump. Either way, there is a ski slope for everyone, it is truly multi-discipline.
What do we mean by multi-discipline? It is all down to the slopes – easy cruising blue runs, fast and smooth on the reds, moguls, off-piste and freestyle, un-pisted black runs, snowboarding, boardercross, ski touring or cross-country – they all require different skills, levels of fitness, experience, and of course personal preference.
APi is a ski property portal, so why are we writing about this kind of thing? Simply because every ski resort is defined by its terrain. Chamonix could not be more different to Megève, they are only 30kms distant but a world apart. You have resorts such as Andermatt, unique in their own way, or Crans-Montana and Grimentz, equally 30km apart but with their own particular characteristics. Verbier and Val d'Isère share many similarities but are in different countries. Zell am See and Fieberbrunn are part of the same ski area but have an entirely different feel.
APi plans to write a series of blogs that highlight the resorts in the French, Swiss and Austrian Alps that stand out in offering the best of the many disciplines. We aim to help property buyers, and those looking to rent for the next holiday make intelligent choices, or maybe just find somewhere new to ski.
Second edition: Why you should go Cross-Country skiing (it's not only for 'oldies'!)
Cross-country skiing (aka Nordic Skiing) is one of the origins of 'getting around on skis', going back centuries. Using a textured surface underfoot to allow grip when going uphill or on flat terrain, in its simplest form, little has changed. Today, the sport is a growing and popular pastime for the recreational skier right through to the Winter Olympics and the World Championships. Many marathon and biathlon mass events are held every year in some of the top ski areas in the Alps.
If you like being outdoors in the mountains, connecting with nature, this is the winter sport for you. In entirely different landscapes to where the skiers go, most trails are on scenic undulating paths often way up the valley, along the riverbanks, or through the trees – at your own pace. Many trails in and around the ski resorts are free, although some Swiss resorts charge daily/weekly rates, but the costs are low. Either way, no lift queues here, it's all very Zen.
Whatever your fitness level, cross-country skiing promotes cardiovascular and muscular fitness, with tremendous health benefits. This sport combines overall endurance while targeting every major muscle group in your body. Using your poles effectively, your shoulders, triceps and abdominal muscles are working hard while your legs are getting toned. It is known to be more efficient for improving aerobic fitness and endurance than indoor cycling. Some Olympic and pro-cyclists take to cross-country skiing in the winter months as the fitness gain for a one-hour ski is considered superior to a two- or three-hour session in the gym.
Just like cycling, cross-country is easy on the joints, because you slide, and no single muscle group is overstressed. And unlike downhill skiing, if you do fall over, the risk of hurting yourself or injury is low because you're travelling at much slower speeds. You won't get lost as good trail maps are always available, and they are signposted. But if you're out for a few hours, always check the local weather forecast.

You don't need to be a skier either, some instruction will help get you started, in five lessons you should have it figured out. Otherwise, go out with a friend or someone more experienced, watch and copy their technique. You may advance to 'skating' which allows more uphill motion and more speed on the flats - it takes some instruction and practice to get it right. Most ski shops in the resorts rent the boots, poles and the type of ski you need.
"I tried cross-country skiing for the first time this season and loved it!"
"My husband has been doing skating-style cross-country skiing to keep up his fitness for years so he got me a private lesson for our Christmas holiday in the Pitztal valley. I tried the classic-style on a circular beginner's trail and after my first lesson I knew enough to get me started. I don't particularly enjoy running but cross-country skiing is a good way to stay fit and burn some extra calories while enjoying the amazing scenery. I went back for a group lesson with the kids (aged 7 and 10) the week after and they totally loved the experience too. I think cross-country ski equipment will be on the wish list for next Christmas!" says our friend Anna Unger.
Where in the Alps shall we go Cross-Country skiing?
Of course, the Scandinavian regions have a long history of cross-country skiing, but there are extensive choices in the Alps as well. The topography of some resorts lends itself much better than others, but almost every ski area has some cross-country skiing terrain. Here we list a number of the finest ski resorts offering cross-country in the Austrian, French and Swiss Alps*.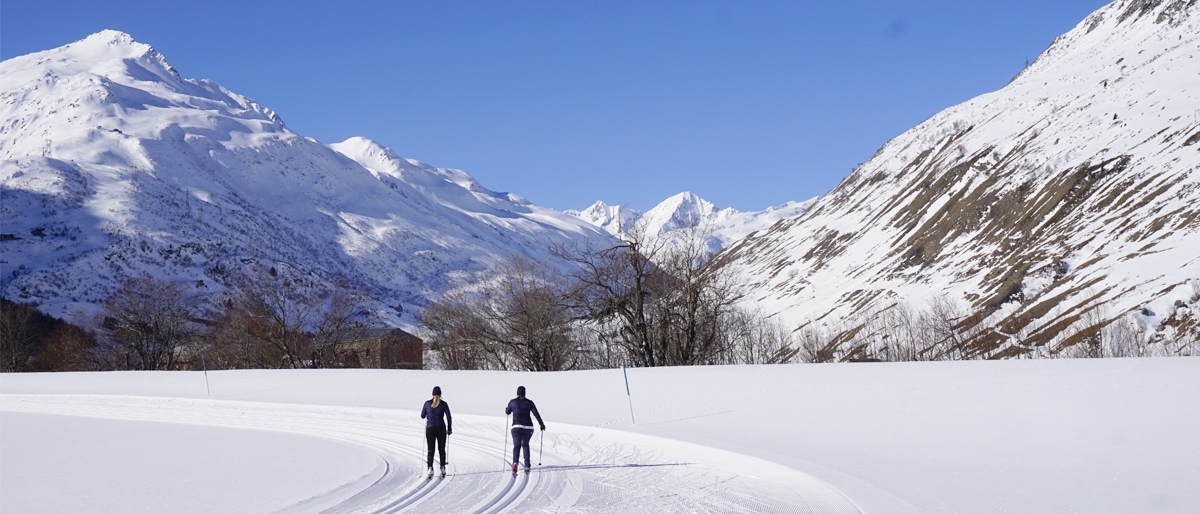 WHERE TO CROSS-COUNTRY SKI IN AUSTRIA
The country has hundreds of cross-country skiing tracks. In Tirol alone, you have over 4,000km of trails for all levels. Between the Kitzbühel Alps and the Wilder Kaiser Mountains more than 700km of perfectly groomed trails across pristine meadows and rolling hills are free to use and ideally suited to all ability levels from novice to expert. Close to Kitzbühel, St. Johann in Tirol hosts the International Tirolean Koasa Race, one of the largest mass-participation races in Europe.
The four villages of Going, Ellmau, Scheffau and Söll in Tirol are connected by over 55km of groomed cross-country ski trails. All trails in this picture-book winter landscape are suitable for classic cross-country skiing and skating.
Zell am See, Kaprun and surrounding villages bring you 107km of cross-country skiing. Enjoy sporty cross-country ski tracks, easy loops, stunning landscapes and amazing views of the surrounding mountains. Classic or skating style, the choice is yours.
The beautiful Glemm Valley is home to Saalbach-Hinterglemm and Skicircus ski area which boasts four cross-country skiing trails between 1,050 and 1,500m altitude, enough to make every Nordic skier's heart beat faster. Highly recommended is the Talschlussloipe, up to the head of the valley.
Around 100km of cross-country ski routes criss-cross the Pillersee Valley, the variety of cross-country options around Fieberbrunn is extensive. The region hosts numerous open biathlon competitions.

WHERE TO CROSS-COUNTRY SKI IN FRANCE
Sunny Alpe d'Huez has 50km of Nordic ski slopes offering a varied area for all levels, they are laid out as loops and groomed daily. There are four blue runs and one red, at similar altitude to the ski pistes. A ski pass is required here.
Chamonix might not seem the obvious location but in fact this dramatic valley lends itself perfectly to some fine cross-country terrain with around 20km of trails marked out for classic and skating. Just minutes from the town centre there are three pistes, red, blue and green. Argentière offers another three trails of 15km total.
As you might expect, the 3 Vallées is well prepared for cross-country enthusiasts with 118km of trails. The Courchevel valley has 67km of prepared trails perfect for beginners and experts, for example around Courchevel Le Praz including its Olympic trail, there are trails across to Courchevel La Tania and Méribel. Other options include a 17km red run to the Altiport, and a blue loop up at Col de la Loze.
The Méribel valley has 33km of prepared cross-country trails based in two different areas of Méribel, one at the Lac de Tueda in Méribel-Mottaret and the other around the Altiport area, which is a red route mainly through the trees. For a longer challenge, starting in Méribel you also have the option to take cross-country tracks over to Courchevel or La Tania.
Elsewhere in the 3 Vallées, visitors to Les Menuires and Saint-Martin-de-Belleville can enjoy routes in the Belleville valley, along the river or across to Plan de l'Eau, or right up to the highest cross-country ski run in France on the Tourbière plateau in Orelle.
The Portes du Soleil has 216km of cross-country trails maintained for both the classic and skating styles. The four trails around Morzine are aimed at the more experienced skiers. The Vallée de la Manche is a 20km mix of blue and red runs. The Pléney route joins up with Les Gets. The Super Morzine/Avoriaz trail network has 16km of black marked trails, at altitude.
Les Gets has two cross-country areas, on the Mont Chéry side, a blue, red and black circuit across to Mont Caly. From the top of Les Chavannes on the other side there is easy terrain with green, blue and red loops - a good place to start perhaps.
Elsewhere in the Portes du Soleil the Abondance valley, is so scenic, we are certain you will be tempted. The 23km of trails with a choice of nine routes run along the valley linking La Chapelle d'Abondance and Châtel.
The breathtaking views in the Massif des Aravis and an exceptional forty eight Nordic ski trails over 173km means this region is a worthy favourite for cross-country enthusiasts. One route also connects between Le Grand-Bornand and La Clusaz, which you can't do on (alpine) skis. The region will host the Biathlon Word Cup again in December 2022.
We can't imagine better terrain for cross-country skiing than the Arly valley, with its gentle inclines and stunning views. Megève has a long history of Nordic skiing and many prize winners over the years. Three sites and 45km of cross-country skiing are suitable for all levels, including a black run up to Côte 2000; and a 10km loop linking with Praz sur Arly further along the valley.
La Plagne offers 81km of well-maintained cross-country ski trails in this extensive domain, through majestic mountain surroundings and the forests, from the valley villages of Montchavin, Les Coches, Montalbert and Champagny en Vanoise up to the altitude resorts.
The 22km of cross-country circuits around Tignes are free to use and are shown on the piste map with their level gradings – green, blue, red or black. Most of them are situated at the foot of the ski area, on or around the lake.
Val d'Isère has 21km of tracks for cross-country skiing in the pretty Manchet Valley, La Daille, near Le Fornet and by the Ouillette lake. No lift pass is needed. Gradings are green, blue, red or black.

WHERE TO CROSS-COUNTRY SKI IN SWITZERLAND
Andermatt has 28km of cross-country, in the ideal conditions of the Usern valley. The six trails, groomed daily, are graded easy and medium. The longest is a 19.6km route along the valley to Realp. If that's far enough for you, the efficient local train service is included in the daily/weekly pass.
Champéry has a small offering with 4 routes over 10km. The Grand Paradis trail offers a full 5km circuit.
Crans-Montana has a rather famous golf course, in the winter it becomes a scenic 5.6km cross-country trail. The resort offers a 3.6km circuit in the area around the Moubra lake; Les Briesses is a 3.6km trail in the forest. Furthermore, Plaine-Morte is one of several circuits on the glacier, at an altitude of 3,000m.
Grimentz and the entire Val d'Anniviers have all the ingredients for superb cross-country ski experiences, and do not disappoint. An 11km route to Vercorin and back is one to try. Or from Zinal the 19km trail up the valley to Plats de la Lée is in magnificent big mountain scenery and well-known to hikers in the summer.
Grindelwald and the Jungfrau region is of the most attractive alpine destinations in Switzerland. The small but excellent cross-country trail of 9km classic or 10.5km skating are suitable for beginners and intermediates, in an iconic setting overlooked by the Eiger, the Jungfrau and Mönch mountains.
Gstaad has extensive cross-country trails in ideal gently undulating terrain. The sixteen routes are divided into categories: Nature, Sporty and Versatile. They cover the entire area as far as Rougemont and Lenk, as well as the Glacier 3000 6km trail which is often open in the summer months.
Verbier is one ski resort where the topography is less ideal for cross-country. It does manage to squeeze in four trails over 14km. Les Ruinettes to La Chaux route has great views of the Combins and the Vallée de Bagnes. Champsec has 3.6 and 6km loops. Le Plamproz is down in the valley, 20 mins by car from Le Châble.
Villars-Gryon boasts almost 50km of cross-country skiing trails spread across four sectors with nineteen different routes in the region, and plenty of mountain restaurants to refuel. Nearby Les Diablerets has another 18km including 6km at Glacier 3000, which is often open in the summer months.

*(Please note that the Cross-Country ski areas we have highlighted here are only where APi currently has properties. When we add the some others, this article will be updated)